So if you follow my blog Facebook page you will know that last weekend I headed up to Rockness – one of my favourite music festivals which is based in Inverness. A friend and I banded together a couple of months before to sell tickets for a promotional company and as a result managed to earn our own tickets, food money and some spending money too!
I have to be honest and say I really wasn't looking forward to it as much as usual – if you're a regular reader of my blog you'll know I'm a bit festival mad – but working shifting tickets and also full time at my regular job had really taken out of me so as I trudged to the station on three hours sleep a weekend long party was the last thing on my mind.
Arriving at Rockness the weather was incredible and after the painstaking trek, with what felt like a hundred bags (overpacking for these things is pretty much inevitable), settling into our tent in the sun I just knew we were going to have a good time.
My friend Karen and I went to the festival as a little twosome but soon spotted a fun looking group of men who we decided were going befriend whether they liked it or not. We invited ourselves to sit with them and got to chatting while they barbecued our food for us.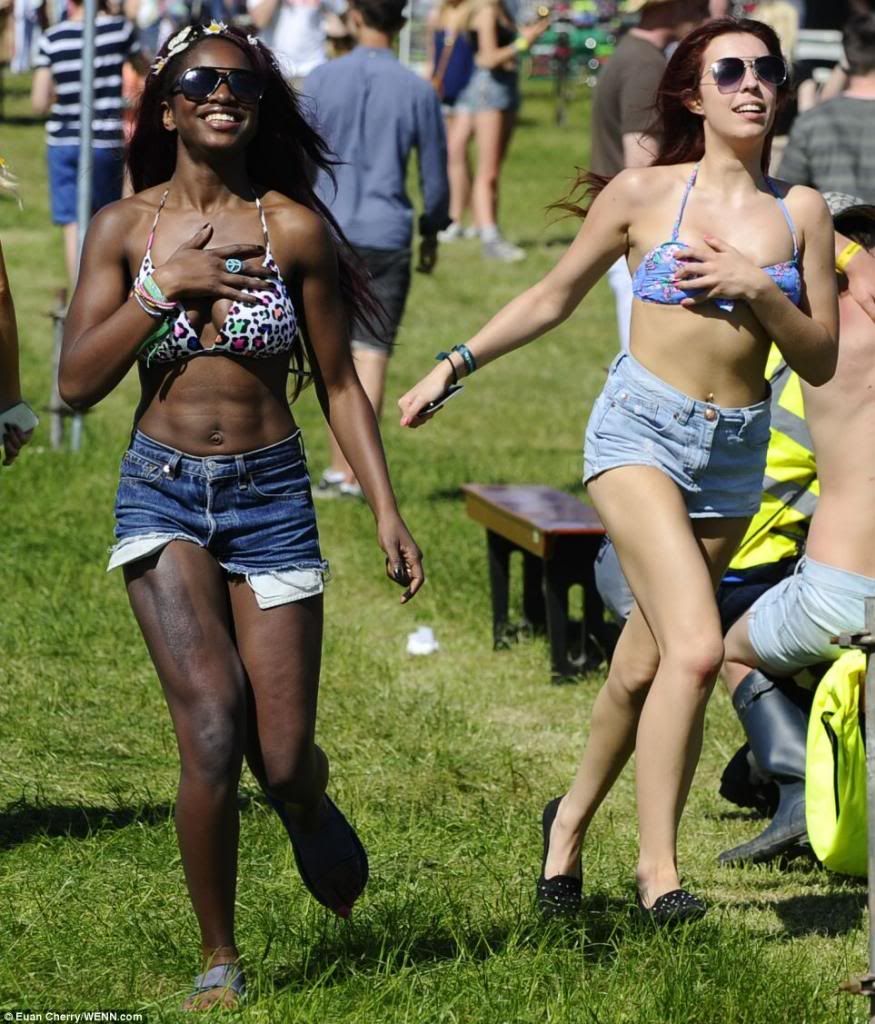 We got papped by The Daily Mail… damn boobies!
It's incredible how much difference the weather makes, but it really does change the whole feel of it. There's not a lot of things that compare to sitting in the sun drinking a glass (or plastic cup) of wine… even if it was a little bit warm.
The main act we wanted to see that night was Ellie Goulding and she did not disappoint. I saw her once before at Radio One's Big Weekend in Carlisle but I think she just gets better as time goes on. I've heard a few people in the past say they think she sounds terrible live but I couldn't disagree less. She played all her popular singles and one of my personal favourites – her cover of Elton John's Your Song which had all the crowd swaying and singing along.
After that we flitted around from tent to tent and it was a bit of a blur really, not because I was pretty merry by this point but because I was so incredibly tired to the point of nearly falling asleep as we watched London Grammar. After that I spent about an hour in the dance tent before heading off to bed in preparation for the next day.
On approaching the tent I noticed something was seriously wrong. In our tent's place was some flattened pancake of waterproof material and poles and I knew there was no way I could fix it alone. Dragging out my sleeping bag and pillow from the tent's dismal remains I told the boys that I would be crashing with them for the night – again they had no choice in the matter but I don't think they minded!
Apparently when Karen returned to the tent about an hour later she spent a good ten minutes hysterically wailing at our sad sad state of affairs before recruiting one of our newfound friends to help rectify the ruin.
Keep checking back to find out how I spent day two and three of Rockness which I will have up shortly which without giving too much away involves cheerleading, Power Rangers and starring in a short video!
Have you guys been to any festivals recently? Did you have any tent disasters like we did? Let me know!
bloglovin' | facebook | pinterest | instagram